Head Start State Infrastructure Supports Access, Quality, and Partnership
As a unique federal-to-local model, Head Start has developed a robust infrastructure of 119 state entities to support the 1,700 Head Start and Early Head Start grant recipients across the country.
State Head Start Associations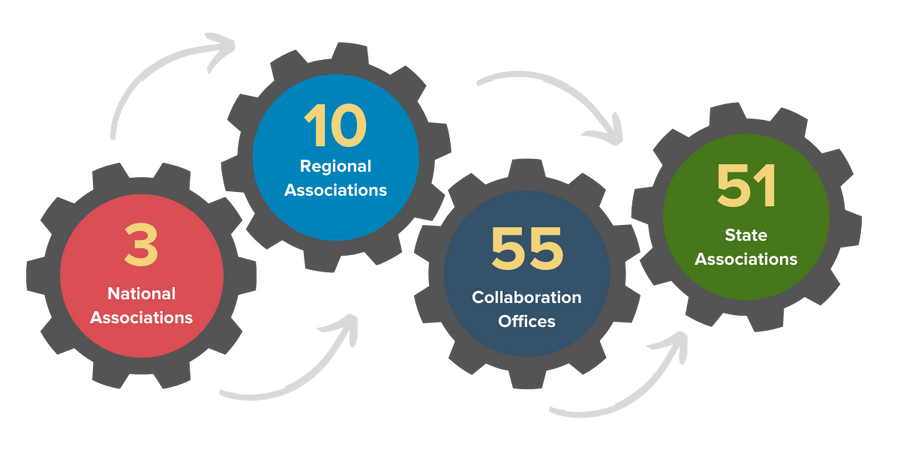 State Head Start Associations are nonprofit member organizations that represent programs within their state. They are most active in five areas:
There are 51 state associations, including D.C., 10 regional associations, three national associations, and 55 collaboration offices. Reflecting on their strengths: 97% indicated they have strong working relationships with key state agencies; 80% indicated they were active in child care debates; 67% indicated they were active in universal pre-K debates; and 68% led or participated in an annual advocacy day at their local statehouse.
Large, Medium, or Small—State Head Start Associations Make an Impact
153

Head Start and Early Head Start program members in Arizona, California, Hawaii, Nevada, and the Pacific region

15

unique trainings reaching

1,200

registrants, covering topics including leadership, site directors, coaching, governance and challenging behaviors

4

professional learning networks, focused on directors, facilities, human resources, and social media

3

conferences with

3,500

registrants, including First 1,000 Days! Early Head Start Conference, Family Engagement, and Early Childhood STEM Institute
In addition to NHSA, two National Associations exist to support priority populations for Head Start services.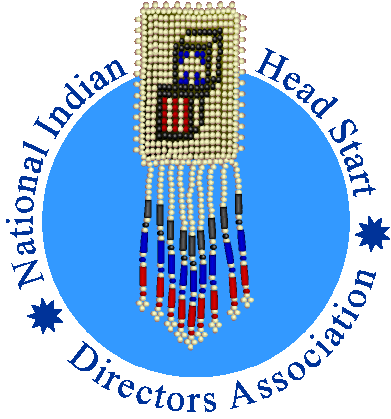 The National Indian Head Start Directors Association (NIHSDA) is the nation's leading voice for American Indian Alaska Native (AIAN) Head Start and Early Head Start programs. NIHSDA serves approximately 20,000 children representing 216 federally recognized Indian tribes, Rancherias, and Alaska Native villages and it is the only national organization representing 154 AIAN Head Start and Early Head Start programs across 26 states exclusively. NIHSDA advocates for federal legislative and regulatory improvements to ensure early childhood development and education services are culturally appropriate and relevant. They also provide management and leadership training opportunities.
NIHSDA's current issues and concerns include categorical eligibility for AIAN children served by Native Head Start programs, expanded workforce support, facility improvement, culturally appropriate evaluation tools, additional funding and AIAN-specific research.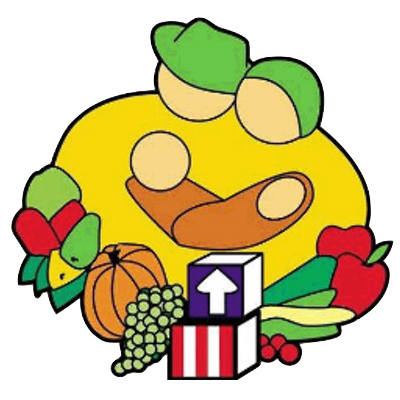 The National Migrant and Seasonal Head Start Association (NMSHSA) advocates for Migrant and Seasonal Head Start (MSHS) programs that serve over 30,000 children across 34 states. Over the course of the past year, NMSHSA has continued to carry out its mission of providing quality, comprehensive services to its MSHS families through meetings, focus groups, conferences, projects, programs, and more.
NMSHSA's current issues and concerns include COVID-19 vaccinations, expanded mental health support for the workforce, and new legislation like the Farm Workforce Modernization Act. 
Sorry, we couldn't find any posts. Please try a different search.
Head Start Collaboration Offices are chartered by the Head Start Act and primarily funded by the Office of Head Start. These director-led offices are designed to facilitate collaboration among Head Start agencies and entities that carry out activities designed to benefit low-income children from birth to school entry, and their families. In addition to collaboration offices in all 50 states, there are collaboration offices in D.C., Puerto Rico and for American Indian Alaska Native Head Start and Migrant and Seasonal Head Start.
| State Collaboration Offices sit in various state agencies. | |
| --- | --- |
| Department of Education | 43% |
| Department of Human or Social Services | 26% |
| Department of Early Learning | 11% |
| Workforce Department | 7% |
| Governor's Office | 4% |
| Combined Education and Human Services Department | 2% |
State Collaboration Offices are focused on five nation-wide priorities:
Top Collaboration Office Activities
%
met regularly with child care leadership to promote coordination and collaboration
%
worked to support pre-K partnerships and 76% worked on transition to Kindergarten 
%
engaged on early childhood disability work 
%
have worked with or led their State Advisory Council (SAC) on ECE
%
partnered with their state Head Start association on conferences or trainings
Collaboration Offices Focus on Support for Vulnerable Children and Families
%
worked to promote evidence-based mental health supports or interventions
%
worked on homelessness issues 
%
engaged on Preschool Development Grant health, nutrition and mental health work
%
worked to support Early Head Start-Child Care Partnerships
In the past year, Head Start Associations and Collaboration Offices noted

the Head Start community in their state improved in the following ways

to support advancement of mission:
"Head Start is more visible in the ECE system. Head Start data is more publicly available and is requested by partners more so than in the past. Head Start is also being referred to as more of a leader than in years past thanks to close partnership with our State Early Childhood Council and networks."
Vermont Head Start State Collaboration Office
Communications with Local Grantees
"The Association continued monthly Director Network calls to provide a forum for support and collaboration. Regional Office, T/TA Staff, and the Kansas State Department of Education, Early Childhood Director, attended each call to provide their individual updates and listen to the questions and concerns of local programs. In addition to the monthly meetings, weekly memos were sent to the Directors to streamline communication and keep all Directors 'in the loop.'"
Peer Collaboration Opportunities
"We increased communication among directors during COVID, held a CLASS Summit with multiple partnerships with other state agencies serving over 250 people, and held a Ruby Payne Emotional Poverty training."
Head Start-State Pre-K Collaboration
"Understanding the Prekindergarten/Head Start collaboration process. We did joint webinars with the NYS Education Office of Early Learning and this reached the districts and Head Start programs and made a dent in the challenges."
New York State Head Start Collaboration Office
"We strategically organized and executed calls and written communications with the Office Of Head Start. Our dedicated mission was to address the critical needs of Head Start families during these ongoing hardships, to make OHS aware of the impact of masking/vaccination mandates on enrollment and retention, and finally of the staff shortages. We had new articulate voices and our membership raised meaningful examples to effect change."
Head Start State Infrastructure Supports Access, Quality, and Partnership