Accessing families' experiences and engagement using parents' own words.
Go Beyond a Strength and Needs Assessment
Parent Gauge is a family engagement assessment tool designed specifically for Head Start and Early Head Start programs. The tool measures the parent experience and the impact of your program's engagement efforts. It goes beyond counting inputs and outputs and beyond a simple survey that asks parents to report on their housing or employment. Parent Gauge takes this information in context with parents' strengths, aspirations, and perceptions over time.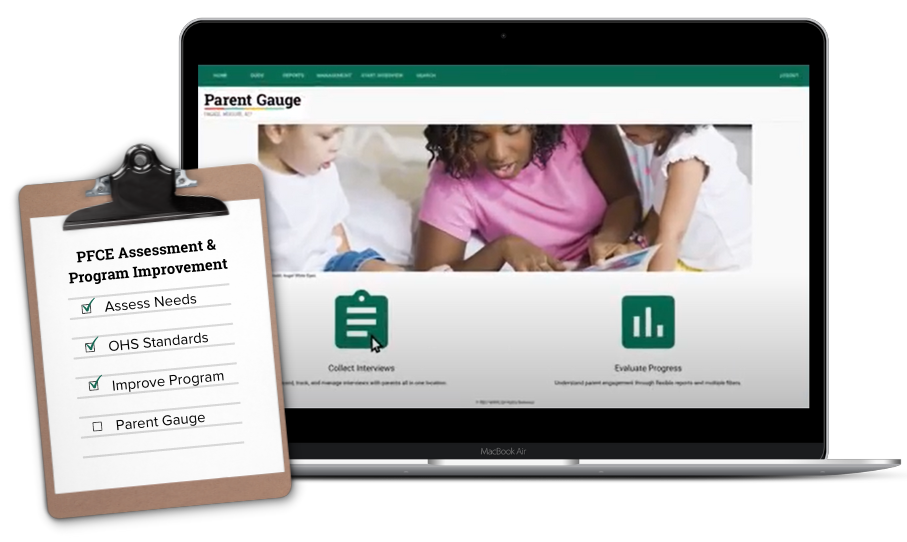 Is it Right For You?
Parent Gauge is designed to meet the needs of Head Start and Early Head Start programs. Frontline staff—like teachers, family service workers, and home visitors—have conversations with the families in their caseload and get immediate feedback. Leadership gets access to quantitative data to inform program design and measure progress throughout the year.
Your annual subscription includes:
Comprehensive training program covering all aspects of the product
One-on-one support and coaching from experienced product specialists
Live training sessions led by expert instructors
On-demand training materials and resources, including videos and tutorials
Regular updates and new training materials to keep users up-to-date on new features and best practices
Integrate Data Seamlessly into Your Curriculum
Your Parent Gauge data can help curate a Ready4K program that delivers trauma-informed activities and parent-requested resources directly to your Head Start and Early Head Start families. All without adding anything extra to your busy schedule.
Pricing
Subscriptions run from July 1 one year to June 30 the next. Grant size is determined according to NHSA's membership records.
| Grant Size | Member Price | Non-Member Price |
| --- | --- | --- |
| Under $1 Million | $2,244 | $2,640 |
| $1-3 Million | $2,805 | $3,300 |
| $3-6 Million | $3,273 | $3,850 |
| $6-10 Million | $3,927 | $4,620 |
| $10-15 Million | $4,675 | $5,500 |
| $15-25 Million | $5,610 | $6,600 |
| $25-40 Million | $6,545 | $7,700 |
| $40-60 Million | $7,480 | $8,800 |
| Over $60 Million | $8,415 | $9,900 |