Health Services Certification Info Session
"I want to get my health services certification. Do I have time? What do I need to do?"
Great questions! In this 45-minute information session, you will meet our reviewer and learn about the process of building a portfolio. See the learning platform candidates will use, and hear directly from a graduate about his experience as he worked through the competencies.
Thursday, November 8, 2023 from 4:00 p.m. – 4:45 p.m. ET
Can't join us live? No problem. Sign up and we will email you a link to the recording.
Why get certified? This certification meets the qualification requirements laid out in the Head Start Program Performance Standards. The certification is rigorous, and successful candidates demonstrate a high level of professional knowledge. Certification is an achievement of which you can be very proud.
Presenters:
Jackie Rivera, Health Administrator, Central Missouri Community Action
Jackie has been a health Administrator at a Head Start in central Missouri for over 10 years and is a certified Community Action professional. Before becoming a nurse, Jackie spent 10 years as an early childhood education teacher. Jackie oversees health and safety at her agency and is project manager for the agency's Childhood Obesity and Diabetes Prevention Project and Women and Infant Relief program. Jackie is a licensed practical nurse, child development associate, and lactation counselor. Jackie is certified to train in many topics, such as Compassion Fatigue, Cardiopulmonary Resuscitation (or CPR)/First Aid Motivational Interviewing, I Am Moving, I Am Learning, Family Wellness, Infant Massage, Mind in The Making, and Experiential Facilitation. Jackie has had the honor of being named for a National Child Plus Community Service Award and received MOCAN Healthcare Profession award.
Alec Hunter, Health and Safety Coordinator, Tanana Chiefs Conference, Fairbanks, Alaska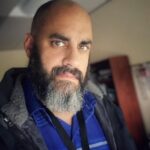 As the health and safety coordinator for Tanana Chiefs Conference Head Start, Alec brings a wealth of experience teaching physical education and multimedia to the field of early childhood education. Alec has worked to implement significant policy and procedure updates and has actively contributed to the program's FA2 review, demonstrating a commitment to continuous program improvement. Currently, Alec is developing a multi-community Health Services Advisory Committee (HSAC) and sub-committees, aiming to foster collaborative efforts among families, professionals, organizations, and communities.