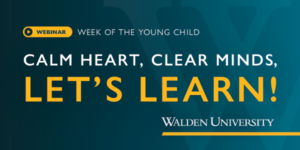 Learn With Walden University
Come learn with Walden University as they join you in celebrating early education, young children, teachers, families, and communities. 
Every day, you support the academic and emotional growth of your students. Walden wants to support you with a webinar that will help you make your classroom an inclusive space where your students' social and emotional needs are met. 
JOIN US FOR A LIVE WEBINAR:
Calm Heart, Clear Minds, Let's Learn!  
Presenter: MoNique Waters Kirkland
Join MoNique Waters Kirkland as she shares how she includes social and emotional learning, mindfulness, and emotional awareness while prioritizing her students' mental health in her classroom. These small but impactful shifts will not only benefit individual students but will change the dynamics and behaviors of your whole class. You will walk away with ready-to-implement ideas that will leave you and your students feeling good and learning like never before.
To learn about Walden University and all the degree and certificate programs in education, visit WaldenU.edu/NHSA or call 1-855-628-3427.