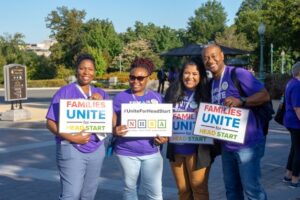 Parent Advocacy Engagement Call
Families Unite for Head Start: Parent Advocacy Engagement Call
Parent engagement is one of our top priorities!
Join the nationwide community of Head Start parents and caregivers. This is a space for parents to receive the latest Head Start updates and advocacy resources from the National Head Start Association as well as connect with Head Start families from across the country. 
As parents and caregivers, you are your child's biggest advocate. The National Head Start Association is looking to empower, support, and inform Head Start families interested in the healthy development and education of children.
Sign up now to join us for our quarterly parent advocacy engagement calls!
Upcoming calls for 2022: The first Wednesday of every other month