The COVID-19 pandemic highlighted the issue of food insecurity that continues to persist and affect the Head Start community. Many families still struggle to find and afford an adequate and nutritious diet. Classroom gardens play an important role in addressing this critical issue.
Growing edible plants with your class provides exciting opportunities for kids to learn about food origins and experience the pride and joy of eating and sharing their harvest. Along with boosting their motivation to try new fruits and vegetables, an edible garden is an excellent tool to help meet Head Start Early Learning Outcomes and Program Performance Standards. Gardening offers numerous opportunities for social and emotional learning and growth too.  
While the phrase "edible garden" may call to mind long, tidy rows of vegetables, the reality is that youth food gardens run the gamut, from windowsill plantings to raised-bed gardens to small-scale urban farms. You'll find them in classrooms and courtyards, and on playgrounds and rooftops. The possibilities are as plentiful as the benefits they provide to youth gardeners. The key is to tailor your garden to meet the needs of your kids and community while maximizing the space and resources available. Some common methods for growing youth gardens include:
Anything that will hold soil and has good drainage can be used to create a container garden. If growing edible plants, the container must be made from food-safe materials.
Made from materials such as rot-resistant wood, concrete blocks, and recycled composite products, raised beds can be used to transform even challenging spaces into gardens.
Grass and existing landscaping can be smothered or removed to create a space to create seasonal gardens.
Windowsills and grow lights provide the opportunity for year round garden activities.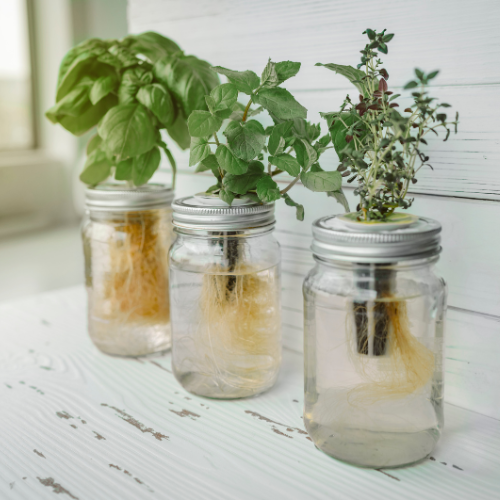 Using innovative water-based growing techniques engages kids and shows them how plants can be grown in any setting. Hydroponic systems are flexible and can be installed indoors under grow lights or near sunny windows or in outdoor locations. 
If you are not sure if your team is ready to take on gardening activities on site, try looking for partners to work with such as community gardens, libraries, churches, city parks and other nonprofit organizations. Also consider providing educational opportunities for families so even if you have limited gardening opportunities at your center, perhaps you can get families inspired to garden at home. If possible, also look for ways to connect families to the resources they need to help them get started.
Resources
To learn more about edible gardening possibilities: