Resilience: Stories of Triumph
This Head Start Awareness Month, we're celebrating the resilience and triumph of our Head Start alumni. Kaela Davison, lead teacher at Mount Hood Community College in Gresham, Oregon, is the second of the series. Thank you Kaela for sharing your story about pursuing higher education, a career as a leader in early childhood education, and a better future for your daughter.
---
Hardships Are Like Hurdles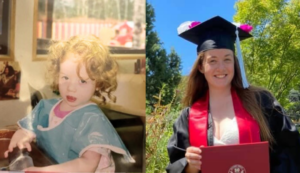 Life was chaotic when I was young. My mom was a teen parent and did her best to get through high school and care for me. She enrolled me in Early Head Start in Portland, Oregon. I was three years old, so my memories are faint, but I remember riding the bus to the program and my grandmother being my bus driver. She was the program's transportation coordinator, and I enjoyed spending time with her either in her office or riding while she drove the bus. I also remember having a daily structure. Structure means a lot when your environment is unpredictable.
After leaving Head Start, I bounced between living with my mother and my godparents. The frequent transitions meant I attended many different schools, had difficulty making friends; additionally, I have epilepsy, which led to academic challenges and chronic absenteeism. The love for learning that blossomed in Head Start was withering. I hated going to school. However, when I was in fifth grade, things at home stabilized, I was seizure-free, and I was getting support in reading and excelling in all my classes. I was more confident, and I began to enjoy school again. I once again fell in love with learning.
'Adulting' Isn't Easy
I got pregnant in my senior year of high school but was determined to continue my education. After graduation, I enrolled at Mount Hood Community College (MHCC). MHCC is among the few colleges offering Head Start services to student parents. Access to Early Head Start and Head Start offered me the support I needed to pursue higher education while my daughter was an infant and preschooler. I could routinely check on my daughter and see her well cared for. I was less anxious and could work part-time and focus on my studies. I also got involved in and joined the program's policy council. I learned valuable advocacy skills for myself and my daughter.
Even with access to care for my daughter, things were challenging. Everything in my life at that time was new. I had a new baby, was a new military spouse, and was a first-generation college student. There was incredible pressure and stress, and my marriage couldn't withstand it all. I divorced my husband in 2019, which put even more financial strain on me. For a while, I took in multiple roommates to supplement my part-time income and keep my apartment and car. Then COVID-19 happened, and I lost my job. I couldn't keep my car or apartment, and I had to move in with my mother and rely on her and public transportation to get to classes and drop off my daughter at school. For several years, I balanced on a tightrope, dealing with periods of unemployment and underemployment, living with my mom, and limited access to transportation. The pandemic compounded every one of these challenges and added a few more. 
Leaping to a New Chapter
2022 was a turning point for me and my daughter. She returned to in-person learning, and I was working full-time again. We secured our own apartment again, and I decided to take the next step in becoming a teacher. I applied for a lead teacher role at MHCC, and they hired me. Becoming a teacher as the world emerged from the pandemic was a make-or-break experience. However, I've embraced the challenges and seen more opportunities to have an impact in the classroom and community. I am embarking on a new chapter to obtain a master's degree in Leadership in Early Education at Southern Oregon University. I'm taking every opportunity to grow and learn. I want to be there for my daughter and as many children and families as possible so they can look at their hurdles and leap.