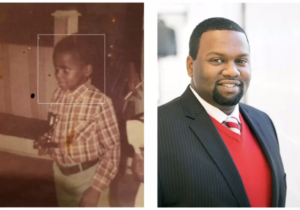 Head Start alumnus Thomas Parker knows the power of collective impact.
"We never talked about the definition of collective impact formally. It was a lived-out experience, and I grew up seeing the positive results," says Parker. "My community exemplified it."
Thomas now has a formal definition for collective impact, which he shared as the opening plenary speaker during NHSA's 2021 LEADS conference: a framework for change that establishes a shared vision and then achieves it through reinforcing actions by multiple parties.
In Thomas' community, the shared vision was education. In his hometown of Tillatoba, Mississippi, a rural town with a population of less than 100 — many of Thomas' school teachers were fellow parishioners at church. Thomas' parents were active members of the local chapter of the NAACP and established an educational opportunities program.
"It is no surprise that I carry the 'education drives success' mindset with me as a leader," says Parker. "Seeing it throughout my community growing up shaped how I see the world today. In my first role as a new teacher in Detroit public schools, it drove me to partner with parents and the community to build trust with students. It inspired me to elevate student achievement and end a budget deficit for Ecorse public schools outside Detroit."
Now, after expanding and building new pathways to success as the first African-American superintendent for Allentown public schools in Allentown, Pennsylvania, he continues to use the guiding framework in his new role as Executive in Residence and Program Officer with the Charles Stewart Mott Foundation.
"My early experiences in my community, including Head Start, shaped and prepared me to be a force for systemic change," says Parker."
During his plenary speech, Parker conveyed: "Equity as a word alone means nothing. Collective impact brings equity to life."
In other words, collective impact is the engine that can make equity a reality. For Thomas, it is the tool that brings generational change to children and families.