Early learning programs—including Head Start, Early Head Start, child care, and universal preschool—are a part of the national conversation like never before. You won't want to miss the opportunity to hear from national political figures, thought leaders, and early childhood experts on what all this change means for Head Start.
Right now, key decision-makers in our nation's capital are drawing up plans that stand to have a profound impact on Head Start's work. It is critical that members of Congress and their staff hear firsthand how important Head Start is to the communities they serve.
Highlights Include:
Meetings with members of Congress
Advocacy trainings
Engaging discussions on how Head Start programs are leading in their communities
Professional development opportunities include media and social media training, using data to tell your story, and much more!
You won't want to miss this! 
But don't just take our word for it. Read the words of your Head Start colleagues:
"Out of all the conferences we attend, the NHSA Fall Leadership Conference is my favorite. Where else can you get high-quality professional development, have time to interact with your peers, and have dedicated time to advocate for Head Start with the support of the NHSA team. I have made so many meaningful connections at the NHSA Fall Leadership events. If you are a Head Start leader that has never attended the event you are truly missing out!"
- 2020 Fall Leadership Institute (virtual) attendee
"Everything was perfect... As a parent, I never thought I'd ever be here speaking for my kids."
- 2019 Fall Leadership Institute attendee
"My favorite part was hearing the OHS updates and information from Yasmina and Tommy. I loved hearing the stories of impact, too. They were so powerful and helped me remember why we do what we do." 
- 2021 Fall Leadership Institute (virtual) attendee
"It was a wonderful experience. I will totally recommend every parent to do it."
- 2019 Fall Leadership Institute attendee
"Great conference!!! All speakers I heard were on point and high energy! Great job, NHSA. Can't wait to be in person again and bring parents to the conference."
- 2021 Fall Leadership Institute (virtual) attendee
"Awesome experience! I definitely will be back!"
- 2019 Fall Leadership Institute attendee
"Attend. Everyone should go to be able to have the experience of the bigger picture."
- 2020 Fall Leadership Institute (virtual) attendee
An Unforgettable Experience
Network and Share
By convening leaders from across the country, our Leadership Institutes drive the Head Start community forward. Meet with your colleagues from across the country, share in conversations about niche Head Start happenings, and make connections that last.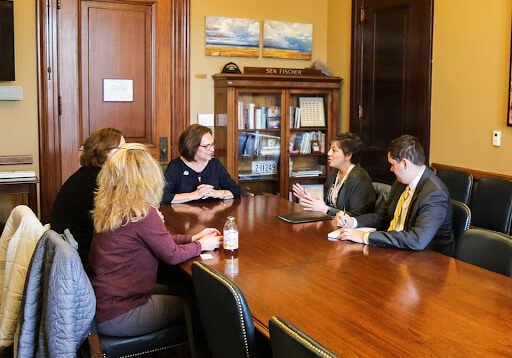 Advocate and Educate
NHSA's government affairs team will make sure that you have all the resources you need to schedule meetings with your members of Congress. These meetings connect your work to Congress' agenda, so you can have a hand in shaping a strong future for Head Start. Together, we can make sure that this dialogue leads to results.
Learn and Grow
Leadership Institutes offer deep-dive insights into the policies that affect Head Start nationally and explore how these can be implemented locally. What's the latest, and what can we expect in the months ahead?
Frequently Asked Questions
A Word from NHSA
"The Leadership Institutes are essential, not only because they offer informative sessions and invaluable networking events, but because they provide the opportunity throughout the year to meet with members of Congress and their staff to build strong, impactful relationships."
- Tommy Sheridan, Deputy Director