EHS Best Practice: Bebés Multilingües
This webinar will be in Spanish. Early Head Start apoya a los bebés multilingües.
Many children enrolled in EHS programs grow up with more than one language. Unfortunately, Latino families, and families that speak languages other than English often encounter misinformation and negative messages about early bilingualism.
This session will present an intentional approach to understanding and supporting the development of multi-lingual infants/toddlers in EHS settings. We will address the following questions:
Are children confused if they grow up with more than one language?
What capabilities do infants/toddlers bring to multi-lingual development?
How can families confront misinformation and negative messaging?
How can EHS programs, parents, and family members collaborate to promote optimal development of multi-lingual infants?

Long before children begin speaking, they are learning. This includes engaging in social relationships and interactions, working with ideas and information, and developing language. Infants growing up with more than one language have the capabilities to develop both languages successfully. An intentional approach that includes parents, family members, and EHS program staff presents an ideal opportunity to support multi-lingual development during the first three years.
Presenters: Robert Stechuk and Tania Villarroel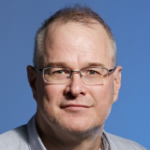 Robert Stechuk, Ph.D., is the Director of Early Childhood Education Initiatives at UnidosUS (formerly the National Council of La Raza) in Washington, DC.  He co-leads the Latino Infant Initiative, a collaboration with Abriendo Puertas/Opening Doors, which seeks to strengthen program capacity to provide high-quality services for Latino infants (PN-3) and their families; infuse the voices of Latino parents and family members, advocates, and program staff in the policy arena; disseminate relevant research evidence to policymakers and programs; and advocate for informed policies, campaigns, and investments at the federal, state, and local levels. He works to build capacity among early childhood education programs serving Latino children through the development of research-to-practice materials and advocacy efforts.  Early in his career, he worked in childcare classrooms for five years and as a Head Start Director for six years. From 2010-2015, Mr. Stechuk was the co-Director of the Office of Head Start National Center on Cultural and Linguistic Responsiveness (NCCLR).  Previously, as an independent consultant, he was the lead author of Revisiting and Updating the Multicultural Principles for Head Start Programs Serving Children Ages Birth to Five. Mr. Stechuk has been a faculty member at George Mason University in Fairfax, Virginia, teaching courses on cognitive development, language development, and early literacy.  He holds an M. Ed. in early childhood special education and a Ph. D. in child development and early literacy from George Mason University.  Dr. Stechuk is the author of Latino Infants: A Continuing Imperative, recently published by UnidosUS.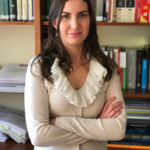 Tania Villarroel, Senior Policy Analyst, Early Childhood Education at UnidosUS.
Tania is a Chilean lawyer and Law Professor at Universidad de Chile with over 10 years of experience. She holds a master's in laws (LL.M.) from Columbia University, and a Diploma in Education Policy from Universidad de Chile. She has worked conducting research, advocating for Early Childhood Education bills in Congress, and implementing education programs in Africa. Currently, she is focusing on developing and sustaining a national advocacy network on behalf of Latino infants, driving a policy agenda that works to eliminate barriers to early childhood education and development for Latino children PN-3 and dual language learners.