The Role of the Success Coordinator webinar recording
Please join Nohemy Catalan, Registered Apprenticeship Program Director at ECEPTS, for her presentation on The Role of the Success Coordinator. She is deeply knowledgeable on this subject and we appreciate her willingness to share her expertise.
The Role of the Success Coordinator slide deck and presentation:
Presenter: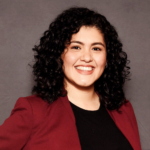 Nohemy Catalan is a Registered Apprenticeship Programs (RAPs) Director at ECEPTS. Nohemy was born and raised in Guatemala, immigrated to the United States in 2013 and began working in ECE in 2015. She has taught preschool and worked as a community college instructional assistant, professional expert, and embedded tutor. Most recently, she helped to develop the YMCA of the East Bay's ground-breaking Head Start Apprenticeship program. As one of the first Success Coordinators, Nohemy supported more than 100 Apprentices to earn college degrees and Child Development Teaching Permits, and launch their ECE careers. She has a passion for encouraging student success, ensuring high quality early education, and being focused on equity and social justice no matter the context. Nohemy has a bachelor's degree in Human Development from California State University, East Bay, and will complete her master's degree in Educational Leadership at CSU, East Bay in December 2022.