DEI Doesn't Happen By Accident
In this professional development session, you will understand why leadership with intention drives authentic DEI programming.
Head Start is organically steeped in efforts to promote diversity, equity and inclusion. The Head Start Program Performance Standards provide a framework that supports this effort. However, without intentionality behind DEI and leadership who 'own' the work, programs may or may not be meeting the needs of children and families in their communities in a way that puts DEI at the center. To prioritize DEI, programs must commit leadership effort here. Don't miss this opportunity to hear from one of the leading voices in DEI in the nation. Dr. Kimberly P. Johnson (lovingly known as Dr. Kim to the Head Start world), Clemson professor, Harvard course facilitator, author and DEI expert, will share her view of DEI in Head Start and how leadership drives its effectiveness.
Presenter: Dr. Kimberly Johnson, children's author and educator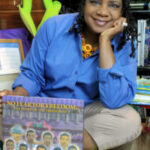 Dr. Kimberly P. Johnson grew up in Shelby, NC. She is the author of 25 children's books. Dr. Johnson received her doctorate in Curriculum, Teaching, and Leadership from Northeastern University in Boston, MA. She holds a master's degree from Clemson University, in Youth Development and Leadership, an Early Childhood Education degree, and a Communications degree from University of North Carolina-Chapel Hill. She completed her postdoctoral work in the Advanced Leadership program at Harvard University's Graduate School of Education. She recently completed a certificate in Diversity and Inclusion at Cornell University. She is currently teaching Creative Activities for Youth, Designing Effective Youth Programs, Youth and Family, and Working with Diverse Youth at Clemson University. Dr. Johnson also teaches Creative Writing for Social Change at Clinton College and is a course facilitator for the Leading Learning, Managing Evidence, and Leading with Equity and Excellence courses at Harvard University in the Graduate School of Education.
Moderator: Dr. Deborah Bergeron